In Memory
Susan Carell (Molla)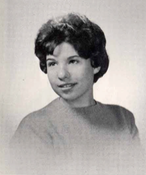 Susan Carell Molla passed away on June 3, 2002. She is survived by her husband Francis and five children. Susie graduated from Bridgewater State College and lived in Norwell, Ma.
___________
This obituary was published in The Boston Globe:
NORWELL - Susan M. (Carell) Molla, 57, of Norwell, longtime office manager at Pearl Vision Center in Hanover, died Monday at Weymouth's South Shore Hospital after a brief illness.
Mrs. Molla was born in Cambridge and raised in Westwood. She graduated in 1962 from Westwood High School and in 1966 from Bridgewater State College.
She taught at Hanover High School from 1966 to 1972. She had been office manager at Pearl Vision Center since 1968.
She married her husband, Francis, in 1968 and then moved to Norwell.
She was active with the Boy Scouts in Norwell, and
was a member of St. Helen's Church.
She leaves her husband, Francis M.; two daughters, Lori E. and Nicole L. of Norwell; and three sons, Francis N. Jr.; Christopher A., and Douglas G. all of Norwell.
__________